Short-Term Faculty-Led Summer Programs
Programs typically start in mid May and the latest end is late June.
This program has been cancelled for 2023 because of low enrollment by established deadlines.
Nursing Ireland & London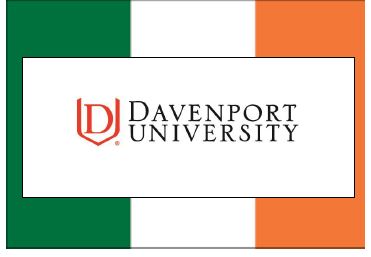 February 25-March 12, 2023
Program Itinerary includes:
Meeting with Irish nursing faculty at local university and Our Lady of Hospice Care Services
Visit private and public health care organizations
Visit Irish Department of Health Services
Visit Trinity College and Book of Kells
National Museum of Ireland
Cliffs of Moher
Travel to health care related and cultural sites in London, England
Course of Study: NURS 427C | Nursing Community Health Clinical
The course of study is available to Davenport Nursing students who will be seniors in the winter semester. Students must have successfully completed 30 college credits, have a GPA of 3.0 and register for the study abroad coursework.
Estimated program cost for 2023: $5,500** 

** Pricing may change due to circumstances beyond university control.

PROGRAM COST INCLUDES:

Round-trip airfare
All scheduled excursions
Local cultural tours
Hotel lodging
Breakfast and dinner
Ground transportation for tours
Health insurance while abroad

---

ADDITIONAL EXPENSES:

Tuition and related course fees
Visa
Passport
Personal expenses (lunch, shopping and entertainment) est. $700

 
Important Dates & Deadlines: 
Student Application Deadline (including references):   Friday, October 21, 2022
Applicant Decision Deadline:                                        Friday, October 28, 2022
First Student Non-Refundable Deposit ($500):            Friday, November 4, 2022
Final Student Payment (Remaining Balance):             Friday, December 30, 2022
Pre-Departure Orientation:                                           TBD (Virtual)
Departure:                                                                    Saturday, February 25, 2023
Return:                                                                         Saturday, March 11, 2023
Faculty Contacts
 

PROGRAM FACULTY DIRECTORS:

Debbie Bosworth, Associate Department Chair: COHP

(616) 871-6144 Ex.6144

Kim Garza, Associate Department Chair: COHP

(517) 367-8250 Ex.8250

STUDY ABROAD DIRECTOR

 

Dr. Wayne Sneath 

(616) 871-3968
European Business Program: APPLY HERE


London & Paris: May 17-June 6, 2023
Sports Management, Marketing, and Human Resources
A three-week, study abroad experience in London and Paris! 
Download the brochure        
Why take this opportunity?
Gain international exposure in business: Marketing, Sport Management, and Human Resources
Experience different cultures
Explore capital cities in England and France 
Visit iconic cultural landmarks 
Go to a game in the French Open Tournament
Gain an international perspective that will remain with you forever
Take up to 6-7 credits:
HRMG 490—Internship Substitution (SABR 381)
LEGL 490—Internship Substitution (SABR 381)
MGMT 490/490-I—Internship Substitution (SABR 381)
MKTG 490—Internship Substitution (SABR 381)
SPMG 290– Internship Substitution (SABR 381) OR
SPMG 390—Internship Substitution (SABR 381)
Capstone Courses:
BUSN 495—Business Planning Capstone (4 credits)
CAPS 794—MBA Capstone
Human Resources Courses:
HRMG 213—Human Resource Management
HRMG 313—Staffing Organizations
HRMG 431—Negotiation & Dispute Resolution
HRMG 700—Human Resources Management
Business, Management, & Marketing Courses:
BUSN 210—Business Ethics
MGMT 211—Management Foundations
MGMT 321—Organizational Behavior
MKTG 211—Marketing Foundations
MKTG 421—International Marketing
MKTG 610—Marketing Strategies
MKTG 638—Marketing in a Multicultural Environment
SPMK 350—Sport Marketing
Social Science Elective:
SABR 381—Study Abroad Experience
Throughout the program students have support and guidance from Davenport faculty while having ample opportunity for personal exploration and sightseeing.  Study Abroad is a huge plus on your resume!
Faculty Directors 

Dr. Todd Pitts (Sports Management & Human Resources)

616.554.4716

Dr. Linda Goulet (Marketing)

616.233.3402
Projected program cost: $6,995**

** Pricing may change due to circumstances beyond university control, particularly with shifting COVID-19 testing costs.

PROGRAM COST INCLUDES:

Roundtrip Airfare  
Room & Breakfast
Train -London to Paris
Ticket to one French Open Tournament game
All Business Visits and Excursions
Health insurance while abroad

ADDITIONAL EXPENSES:

Textbooks
Registration Fee
Additional Airline Baggage Fee
Passport charges
DU Standard Tuition
Lunches and dinners
Personal Spending (approx. $1,000)
Timeline:
Student Application Deadline (including references):         Friday, October 21, 2022
Applicant Decision Deadline:                                              Friday, November 11, 2022
First Student Deposit ($500):                                              Friday, December 9, 2022
2nd Student Payment (50% of Balance):                            Friday, January 20, 2023
Final Student Payment (Remaining Balance):                    Friday, March 10, 2023
Pre-Departure Orientation:                                                  Saturday, April 15, 2023
Departure:                                                                           Wednesday, May 17, 2023
Return:                                                                                Tuesday, June 6, 2023
Contact Faculty Directors or:
Director, Study Abroad: Dr. Wayne Sneath wayne.sneath@davenport.edu