Human Resource Management, BBA
Skip to Program Curriculum
Human Resource management, bachelor of business administration
Be prepared to lead your organization's team.
Davenport's Human Resource Management BBA degree provides application-based knowledge in staffing, training, negotiation, dispute resolution, compensation, organizational behavior and leadership strategies in businesses. This program prepares you to enter and excel in the human resources arena, generating approaches and solutions for managing a business' most valuable resource: its employees.
You will take classes that are aligned with all Society for Human Resource Management's (SHRM) content areas assuring potential employers that our graduates are well prepared for successful careers. SHRM is the world's largest and most prestigious association devoted to human resource management and is well known by human resource employers.
A BBA degree in Human Resource Management can be completed in-seat or online.
Download a PDF of the Human Resource Management program.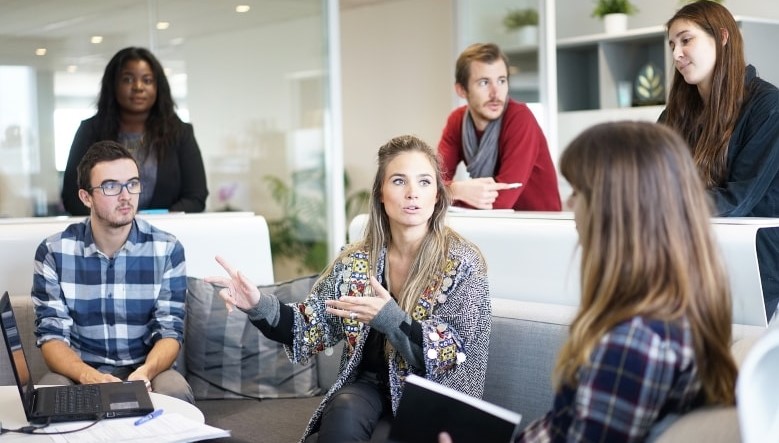 The Human Resource Management program is a great choice if you:
Want to exercise strategic management skills to develop an accomplished and productive workforce.
Can balance multiple individual needs of employees and stakeholders
Enjoy interacting with people to develop and achieve goals
Want to develop strong problem-solving skills
During your studies, you will exposed to the following:
Developing skills in business fundamentals with particular expertise in human resource management.
Engaging in real-world application by applying relevant knowledge of the field.
Honing strategic decision-making and analytical skills in a local, national and international business context.
Employment Opportunities
Human Resource Management can be a fulfilling career as you help employees and organizations succeed. Your HR skills are needed across many fields including healthcare, education, construction, government and other industries. With this degree you are qualified to pursue rewarding career positions such as the following.
Human Resource Specialist
Employee Relations Manager
Recruiting and Staffing Manager
Compensation and Benefit Manager
Labor Relations Manager
Job Analyst
Back to Top
Full Curriculum
BACHELOR OF BUSINESS ADMINISTRATION  •  120 CREDITS  •  HRMG BBA
Students in the Human Resources Management program receive broad exposure to human resources careers, topics, policies, and real world applications.  With an emphasis on the important strategic role human resources plays in business, students learn through varied methodologies that develop the strong critical thinking and communication skills human resources professionals need in the twenty-first century. 
Davenport's Bachelor of Business Administration's Human Resources Management program is aligned with the Society of Human Resources Management (SHRM) educational standards for human resources professionals.  Eligible students can prepare for and take the SHRM Certified Professional (CP) exam during their senior year

Which class should I take? When should I take it?
2019-2020 Recommended Program Sequence for Human Resource Management, BBA and printable pdf download

Foundations of Excellence
39 cr.
ACES100 or OPEN
Achieving Career and Education Success or (if exempt) Open Elective
3 cr.
COMM120
Presentation Techniques
3 cr.
DATA275
Introduction to Data Analytics
3 cr.
ECON200
Microeconomics
3 cr.
ECON201
Macroeconomics
3 cr.
ENGL109
Composition
3 cr.
ENGL110
Advanced Composition
3 cr.
ENGL311
Professional Writing
3 cr.
MATH125
Intermediate Algebra
3 cr.
STAT220
Introduction to Statistics
3 cr.
SOSC201
Diversity in Society
3 cr.
HUMN
Humanities Elective
3 cr.
SOSC
Social Science Elective
3 cr.
Foundations of Business
32 cr.
ACCT201
Accounting Foundations I
4 cr.
ACCT202
Accounting Foundations II
4 cr.
BITS211
Microcomputer Applications: Spreadsheets
3 cr.
BUSN210
Professional Ethics
3 cr.
CISP111
Requirements Planning and Development
3 cr.
FINC211
Corporate Finance
3 cr.
GPMT287
Principles of Project Management
3 cr.
LEGL210
Business Law Foundations
3 cr.
MGMT211
Management Foundations
3 cr.
MKTG211
Marketing Foundations
3 cr.
Major
37 cr.
BUSN225
International Business
3 cr.
BUSN489 or HRMG490
Field Experience in Business or Human Resource Management BBA Internship
3 cr.
HRMG213
Human Resource Management
3 cr.
HRMG313
Staffing Organizations
3 cr.
HRMG350
Training for Organizations
3 cr.
HRMG431
Negotiation and Dispute Resolution
3 cr.
HRMG433
Compensation Administration
3 cr.
HRMG453
Strategic Human Resources
4 cr.
LEGL401
Employment and Labor Law
3 cr.
MGMT316
Innovation and Managing Change
3 cr.
MGMT321
Organizational Behavior
3 cr.
MGMT375
Leadership Discovery
3 cr.
Recommended Electives
(9) cr.
HRMG290 or HRMG490
Human Resource Management Internship or Human Resource BBA Management Internship
3 cr.
HRMG330
International Human Resource Management
3 cr.
HRMG499
Certified Professional Exam Prep
3 cr.
<!–– program json structured data ––>