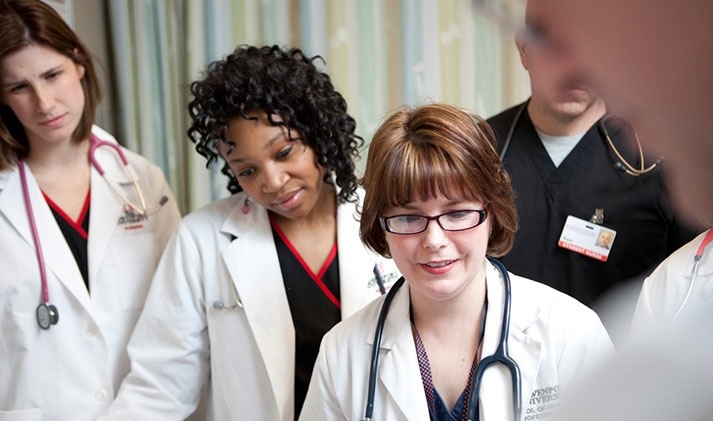 Welcome, Partner Medical School Students!
MBA-Health Care Management Concentration 
The Health Care Management Concentration focuses on strategic, financial, and ethical decision-making skills in an evolving health care environment. The program is designed to advance students' practical expertise in managing diverse health care processes necessary for individual and corporate growth and development. These skills are integrated through interdisciplinary approaches of health care organizations, ethical and legal issues, financial management, managing projects, information management, and strategic management using case analyses and interactive technologies. The Health Care Management Concentration serves health care providers as well as individuals who are involved in the management and reimbursement of health care services. Individuals who desire to enter the health care management field will also benefit from this program.
If you are a student of:
St. Matthew's University, Cayman Islands
Medical University of the Americas, West Indies
SABA University School of Medicine, Antilles
You can take advantage of our shared relationship with special graduate program opportunities. Whether you've already earned a bachelor's degree or are still working toward it, you can get started in Davenport's MBA or BBA programs right now.
Download a PDF of the MBA program.
Master of Business Administration (MBA)

Students are able to take the MBA in one of two different formats.  We offer a 30 credit MBA or a 39 credit MBA with a Health Care Management concentration.  By receiving an MBA, students are able to be ahead of their peers by coupling the knowledge of the business side of the health care industry with their medical degree.  

Quick Links
Get Started On Your MBA
Apply online and waive the application fee by choosing "Pay Later" on the form.
Include the name of your medical school as a previous institution.
Print out and complete the Authorization to Release Educational Records.
MBA Admission Requirements:
All applicants must provide the following: 
Official transcripts (2.75 GPA or higher is required)
Statement of Purpose Essay
Copy of current professional resume
Two letters of recommendation
Authorization Form
Submit all documents to:
Cari Weymouth
Admissions Representative
Davenport University
6191 Kraft Ave
Grand Rapids, MI 49512
Phone: (616) 233-3471; Fax: (616) 554-5214
Financial Aid
Financial aid is available to qualified students, including Davenport 
scholarships
 up to $2,000 per academic year (two semesters). To qualify, you must have completed your bachelor's degree with a minimum 2.75 GPA. Review the steps for completing the 
financial aid application process
. 
Benefits of Medical Partner Graduate Studies 
AS A PARTNER SCHOOL STUDENT, YOU CAN:
Qualify for Title IV aid (for U.S. citizens and eligible non-citizens).
Earn your DU graduate degree completely online (including registration, books and financial aid applications).
Waive the application fee by choosing "Pay Later" on your application.
 Receive partnership tuition rates for your entire program. (Because of the special pricing discount students are not eligible for other Davenport scholarships and/or discounts.)
Advance your career with the competitive edge of a medical degree and an MBA.