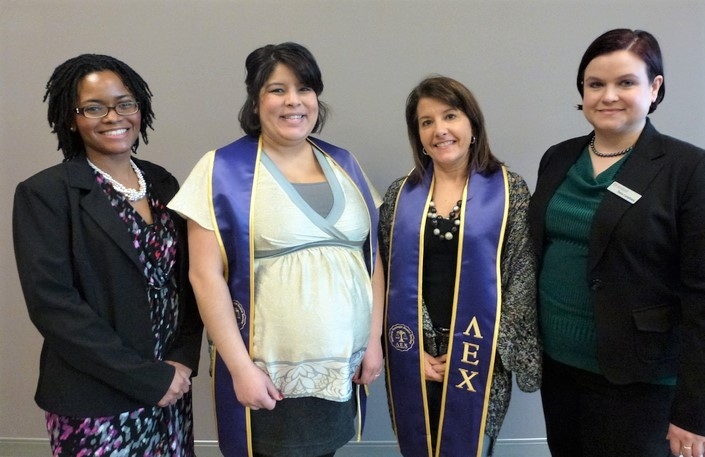 | | |
| --- | --- |
| Lambda Epsilon Chi (LEX) is the national honor society for our Legal Studies program and is founded by the American Association for Paralegal Education.  The purpose of AAfPE is to promote quality, develop educational standards, and encourage professional growth.  Only those students who attain high academic achievement are selected and inducted into this society.  Inductees are recognized through a formal ceremony and presented with a Certificate of Induction and a special pin.   | |
LEX - Supporting High Academic Achievement.
The Lambda Epsilon Chi (LEX) honor society was founded in 1995 through the efforts of the board of directors for the American Association for Paralegal Education (AAfPE).  It serves to recognize those students who attain high scholastic achievement while enrolled in a Legal Studies program.  Davenport University is proud to be a member of the AAfPE and have a LEX Chapter to celebrate the academic success of our students. 
Eligibility – By Invitation Only. 
To maintain the high rigor of what it means to be a LEX member, the Department Chair of the Legal Studies program will conduct a review of each candidate and will invite only those students who meet the following criteria to become LEX members.  This process applies to student enrolled in the Legal Studies Associate of Science, Bachelor of Science, or Post-Bachelorette Certificate programs. 
The criteria for eligibility is as follows, the student:
must be in good academic standing at the University and enrolled in the Paralegal program.
must have completed 2/3 of the program requirements.
must have attained an overall grade point average of at 3.25 or higher and 3.50 or higher in all paralegal courses.
must demonstrate the qualities of dynamic leadership, universal communication, and professional excellence described in the Davenport University Excellence System. 
Once eligibility is determined, those who qualify will receive a letter along with an invitation and application for membership.  If the student wishes to be a LEX member, a fee of $50 must be remitted to participate in the induction ceremony.  Details and payment will be provided in the eligibility letter.   

Recognition - The Induction Ceremony.
In the spring of each academic year, eligible students who wish to become members, are invited to attend a formal induction ceremony at the University.  Family, friends, and special guests are welcomed and encouraged to attend this celebratory event.  During the induction, LEX members will receive an Induction Certificate, special pin, and an honor cord to wear at commencement. 
Questions?
Please contact the Department Chair of Legal Studies, Misty Davis, by phone at 616-871-3983 or email mdavis125@davenport.edu with questions.